Presentation Busts for 'Wolle Rödel'
Product Design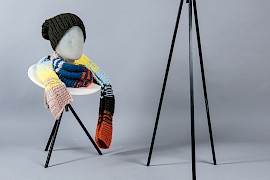 A series of presentation busts, custom-designed for 'Wolle Rödel'.
'Wolle Rödel' is one of the most important and largest retailers in the handicraft industry in Germany. Specializing in mostly textile handicrafts (sewing, knitting, crochet, etc.) they offer their broad range of products through over 60 own outlets. More than 10.000 different products are available.
The briefing asked for a design of a modular system of presentation heads/collars for the display of shawls, scarfs and hats. Heads can be shown with or without a collar. We developed different stands in different heights, the heads this way can be shown in a table-top version or as a floor display.
The units are produced in a small batch-production run exclusively for 'Wolle Rödel' featured in all their outlets.
materials:
epoxy laminate, metal, powder-coating, paint
all photos © Michael Sans
links:
www.wolle-roedel.com