'GRAGGER'. Bakery (01)
Interior Design, Furniture Design & Art Direction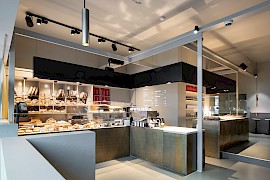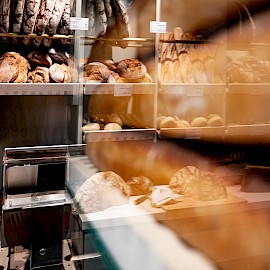 Helmut Gragger's idea is to "take our culture's earliest food, bread, back to its roots". In 2012, Sarah Wiener – an Austrian-born chef and advocate of an organic food culture – brought the master baker from Linz to Berlin.
A striking crust, large pores and a moist centre. Every loaf of Gragger bread is one of a kind – handmade from flour water and salt. Nothing else. All of the ingredients are natural in origin and organically grown. No ready-made mixes, no raising agents, no artificial enzymes. Gragger uses natural sourdough, and the one thing that needs is plenty of rest.
Three periods of proving, patient kneading, careful baking in a wood-fired oven and plenty of time to cool. It takes three days before a loaf of Gragger bread is ready to go on sale.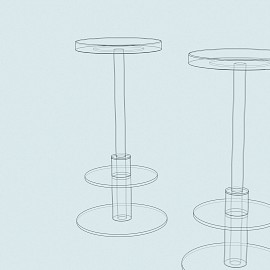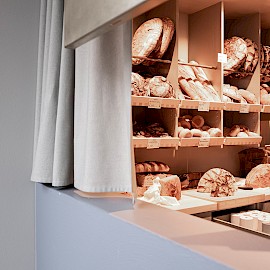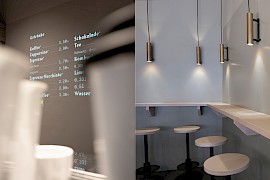 It took more than three days to get the concept and the design for the first own outlet of GRAGGER BROT down on paper. And even longer to get those ideas finally realised in Potsdamer Straße 107. This store being the first GRAGGER outlet in Berlin, we wanted to establish an unique design-language that best reflects the core ideas of the company. Materials, colors, details and proportions are refined, yet very simple and unobstrusive. As with GRAGGER's products themselves, the strongest emphasis is put on the traditional craftsmanship in the execution of all of the single elements. Cabinets, counters, seating furniture and the lighting fixtures have been custom-designed for the client.
 
Custom furniture being developed for this project:
SANS N°145, stool in solid maple
SANS N°146, bench in solid maple
SANS N°148, rear buffet
SANS N°149, sign in solid brass
SANS N°151, counter
SANS N°152, wall panelling in solid wood
SANS N°153, small table, solid maple and steel
SANS N°155, wall light, steel and brass
SANS N°156, vertical shelf in solid maple
SANS N°158, bar stool, steel and solid maple
 
links:
www.gragger.de
www.ffpeters.de