'idee 2.0'. Retail furniture for 'idee. Creativmarkt'
Furniture Design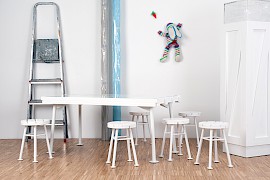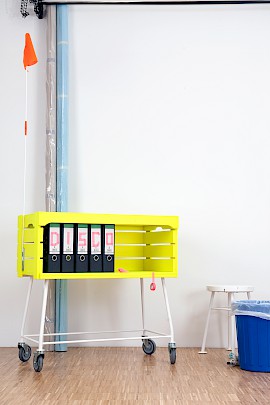 A new line of retail furniture for all the outlets of 'idee. Creativmarkt'.
For this ongoing project up till now over one hundred different pieces have been designed. The series consists of shelving units, tables, storage- and display units for the countless single products offered be 'idee. Creativmarkt'. The line also includes lighting fixtures that perfectly blend in with the store-design of our client.
All the furniture is produced in a small production run, mostly crafted by hand. The collection is used in all of the over 40 retail shops of 'idee. Creativmarkt'.
materials:
steel (powder-coated), glas, wood, paint.
 
photos © Michael Sans and © idee. Creativmarkt
 
links:
www.idee-shop.com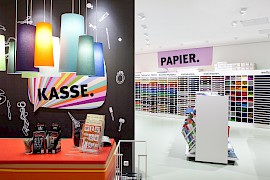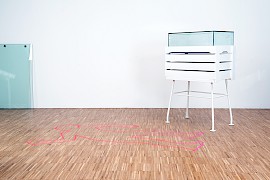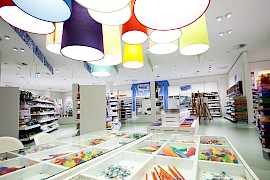 Furniture developed for this 'idee-Sondermöbel-Serie' (selection):
iSM N°001, Hocker Kinder
iSM N°002, Hocker Erwachsene
iSM N°003, Beistelltisch mit Glasplatte
iSM N°006, Arbeitstisch, klein, mit Rollen
iSM N°007, Arbeitstisch, lang
iSM N°008, Schütte mit/ohne Rollen
iSM N°009, Basteltisch Kinder
iSM N°010, Schmucktisch
iSM N°013, Vitrine Papeterie
iSM N°015, Vitrine Pinsel
iSM N°016, Leuchte Kasse
iSM N°018, Leuchte Basteltisch Kinder
iSM N°019, Pyramidentisch
iSM N°022, Baldachin Kasse
iSM N°023, Dispotisch, klein, auf Rollen
iSM N°024, Dekosäule
iSM N°026, Keilrahmentisch, auf Rollen
iSM N°027, Handspiegel mit Schwanenhals
iSM N°031, Notkasse (Vers A)
iSM N°032, Thementisch Floristik
iSM N°034, Runder Tisch 1200
iSM N°035, Marktstand
iSM N°036, Vitrine, klein
iSM N°039, Pinselschrank Zusatzmodule
iSM N°042, Wandspiegel
iSM N°044, Trolley Abfall
iSM N°045, Hocker Kinder
iSM N°046, Blumeninsel 1000/1000
iSM N°048, Schirmständer
iSM N°050, Podest Saisonware
iSM N°051, Stiftetisch
iSM N°059, Stele, groß
iSM N°060, Stele, klein
iSM N°061, Säule Schmucktablett
iSM N°069, Stoffschneidetisch
iSM N°076, Schaukästen Fenster
iSM N°082, Aufsteller Gutscheinkarten
iSM N°089, Kartenregal
iSM N°092, Schutzschild Kasse
iSM N°099, Verkaufsständer Taschen