'Jubel'. Patisserie
Interior Design, Art Direction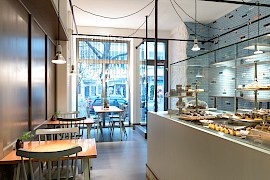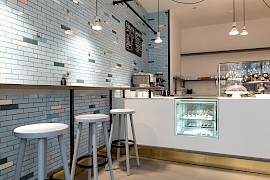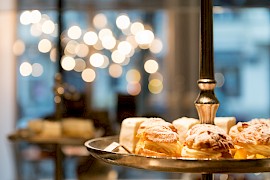 The transformation of an historic butcher's shop into 'Jubel', a refined patisserie in Prenzlauer Berg.
Small subtle gems rather than big bombastic bling represent the aesthetic mission of 'Jubel', opened in September 2014 in central Prenzlauer Berg in Berlin. Paying respect to this ethos, a sophisticated home for 'Jubel's production facilities, show room, and small café was created.
'Jubel' owners and founders Lucie Babinska and Kai Michels earned their stripes in famous Michelin-star-restaurants before deciding to join forces and open their own business. In addition to its on-site offerings, 'Jubel' – which means 'cheer' in German – also does dessert catering for weddings and other events.
Muted colors, warm lighting, and natural materials create the perfect environment for showcasing and consuming the lovingly manufactured products offered at Jubel. We sought to maintain the charming Altbau flair of the space's turn-of-the-century architecture with its high-ceilings, large front window and traditional tile wall -- once typical for butcher shops in East Germany. Desserts are presented in refrigerated glass cases, which are integrated in the all-white counter. A steel construction fixed to walls and ceiling divides the space, while also providing a structure to hold multiple lighting units.
links:
www.jubel.berlin
www.ffpeters.de