SANS N°030. Butter Knife
Product Design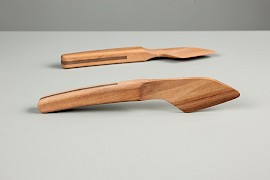 Custom-design of a butter knife for Michelin-Star-Restaurant 'Nobelhart & Schmutzig'.
The SANS N°030 was initially developed for the use in the restaurant only, the knife is now available for sale through 'Nobelhart's' webshop. It is produced by hand in a small batch production run.
Here is what 'Nobelhart & Schmutzig' is writing in their webshop:
"If you've ever joined us for dinner at Nobelhart, you'll be well familiar with the little wooden knives you've used to slather a good helping of our homemade butter onto thick slices of Domberger's rye bread. Like all of our food, they're 100% local – handmade by Till Meyer from two types of strictly local wood, namely pear and nut. As a finishing treatment to help harden the wood, Till only uses a coating of peanut oil. Designed are the knives by our's truly Michael Sans.
All knives are made with both types of wood, but you get to pick whether you'd like one with mostly pear or mostly nut. The pear variety is a bit lighter in color and usually comes with some lovely marbling, whereas nut is a bit darker. With this being a handcrafted product, each knife is completely unique, and that is absolutely the way it should be – no two are the same in terms of grain, colour, and brightness. Also keep in mind that with time the patina of each knife will evolve and change."
materials:
solid hard-wood (pear, nut)
all photos © Michael Sans
links:
www.nobelhartundschmutzig.com
www.hausgemachtes.berlin