SANS N°169, N°170. Wicker furniture
Furniture Design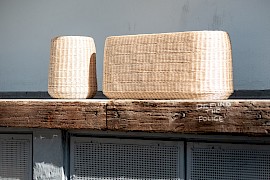 A series of handmade wicker furniture.
‍
Based on the design of the 'E50', the stool SANS N°169 and the bench SANS N°170 were developed.
As the 'E50', these pieces are handmade in Germany by some of the last master willow weavers still around. Stools and benches are crafted using local willow twigs, they are produced in a small batch production run only.
First documented in ancient Egypt, wicker is the oldest furniture making method known to history, dating back about 5000 years.
materials: willow twigs, wood
all photos © Michael Sans
for sale, price upon request