SANS N°182. Knife
Product Design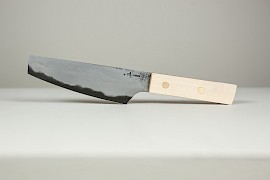 This small batch production has been designed and manufactured exclusively for the Michelin Star Restaurant 'Nobelhart & Schmutzig' in Berlin.
To be used throughout the whole dinner the knife provides a unique cutting-experience for the guests. The object fuses the expertise and aesthetics of two masters of their respective crafts, making for a singular statement piece that is as practical as it is full of character.
The knives were hand-forged by renowned knifemaker and bladesmith Ulrich Hennicke, better known as the hands and brains behind the Hohenmoorer Messermanufaktur. Thanks to this one-of-a-kind collaboration, the Nobelhart knives are absolutely unique both in terms of look and quality. The wood is treated with hard oil which guarantees stability, yet allows for the formation of a beautiful patina over time.
What is it for? To say it in the words of Nobelhart & Schmutzig sous chef Thomas Hedde-Leitner: "It's for absolutely everything. It's just an amazing knife. It's handy enough to use at the dinner table while its impeccably sharp, unalloyed steel blade makes it a true kitchen allrounder."
Available through the 'Nobelhart & Schmutzig' webstore here
 
materials:
steel (3-lagen-stahl), maple, brass, fiber, wax.
 
all photos © Michael Sans
 
links:
www.nobelhartundschmutzig.de
www.hohenmoorer-messermanufaktur.de
www.hausgemachtes.berlin