SL 009. 'Herrengedeck'
Product Design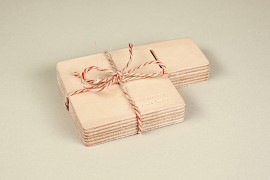 Coaster for beer and schnapps in leather. Collaboration with fashion designer Frank Leder.
Designed and produced together with renowned fashion designer and dear friend Frank Leder the 'Herrengedeck' is made from 3,5 mm thick vegetable tanned cowhide from southern Germany. The embossing is done with a steel punch executed in one swift blow.
The coaster takes up a true legend of German pub culture: The time-honored 'Herrengedeck'. In most German regions this term refers to the unholy combination of beer and schnapps – a "Langer" and a "Kurzer," a long tall one and a short one.
Fun fact: A "Herrengedeck" made up of beer and sparkling wine was the mandatory minimum consumption in many pubs on Hamburg's Reeperbahn well into the seventies.
concept, design and manufacturing by Frank Leder and Michael Sans
materials:
vegetable tanned leather
all photos © Michael Sans
links:
www.frank-leder.com