'VAUD'. Outdoor furniture for 'LEBELLO USA'
Furniture Design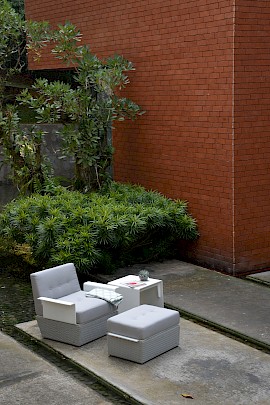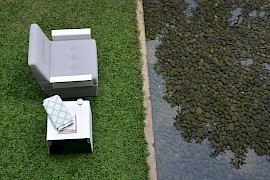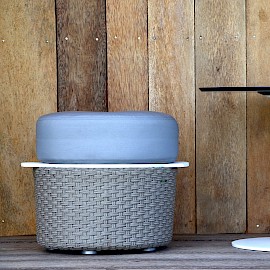 Series of outdoor furniture for LEBELLO USA.
 
VAUD is an avant-garde outdoor living collection, that includes club chairs, platform sofas and tables. As part of this collection, the Vaud Club and Sofa are unique connection systems combining the platform and bespoken cushions, available as a single club chair with optional arms or a two or three seats sofa. The hand-fabricated seats have an internal aluminum frame with 20 cm thick fully upholstered seat cushions. The iconic design is defined by a solid 10 mm aluminum profile that flows in and out of the product with straight and soft rounded edges.
As part of this collection, the VAUD Tables are geometric architectural forms also made from 10 mm solid aluminium, available as a low or high side table in 27/10″ and 40/15.7″. The tables are an extension to the VAUD collection but work well as an accent or complementary standalone piece. Their rigidity and weight make these tables almost indestructible, finished in a textured polyester powder coat.
The VAUD Stool is a connectable round stool that can be arranged in endless variations. Connection accessories with different angles provide an integrated table between each stool. The aluminum profile of the stools functions as handles and creates the connection between the bespoken 20 cm cushion and the woven stool.
 
materials:
aluminum, QDF seat cushion, touch fiber, polyester powder coat.
 
links:
www.lebello.com/products/club-vaud/
www.lebello.com/products/vaud-tables/
www.lebello.com/products/vaud-stool/